All bloggers, writers, Christians, and friends who attend Hidden Doorways or The Minstrel: I have an important announcement to make and I'd greatly appreciate it if you'd all take the time to carefully read through this post and pray about it :)
Many of you have heard of Emily B.; she's a 16 year old girl living in England and is battling leukemia (a cancer of the white blood cells). Her button looks like this:
I've been reading Emily's blog for a little while and I've been greatly encouraged by the strength of this young lady. She's currently transporting her belongings to live in a hospital where she'll be undergoing a 1 month period of isolation. What's going on during this time? Well, Emily will be receiving some intense radiation therapy that will wipe out her bone marrow. She'll then receive a transplant of stem cells from her baby sister and spend the next month in isolation (since she won't have a fully functioning immune system, causing her to have no internal defense against viruses and bacteria) to grow the stem cells and produce new bone marrow which will make good, cancer free white blood cells!
"Alright Squeaks, what's the fuss about? I'm already praying for Emily." That's great! And please do keep praying for her, because God heals people from cancer! Now listen to what I'm proposing.
Let's join together for OPERATION: COMBAT!
What is OPERATION: COMBAT? Well, it's an idea that bloomed into a thing. That's a poor description…here's a better one. My mom and I were sitting and talking and praying about Emily, and mom said to me, "Squeaks, why don't you organize a 1 month period of fasting for Emily? You can get your blogging acquaintances to join in." I caught on to the idea and emailed Emily for permission to organize a 1 month period of united fasting for her healing. She got back to me today and agreed :)
So here's how OPERATION: COMBAT is going to work. Starting in 5 days, I want to gather a force of prayer warriors together that will willingly give up something important to them (which I'll talk of in a moment) and focus on God, praying for Emily's healing from leukemia. OPERATION: COMBAT will take place 1 day before Emily begins her period of isolation and will continue for approximately one month (until Emily announces that she's out of isolation). Now for the details:
Joining this force doesn't require much: simply your honest prayers and fasting. Fasting? Yes, fasting! Now don't look at me like that…let me explain. Some of you are under the age of 17 and are still growing like weeds. Biblical fasting has always been going without food for certain periods of time, but because you're growing it probably isn't safe for you to go without food (you'll have to talk with your parents). So, if you want to join in the fasting, all you have to do is give up something that is important to you. For most people, food is something that is important to them (ok, it's important to all of us). When we get hungry and we're fasting, we feel the tummy pains and are reminded to pray to God. So that's why it's important to choose to give up something that's important to you while you fast; something that you think of often and, in its absence, you'll be reminded to pray to God. Here are some of my own suggestions:
·
1 meal a week/day (for older teens, you can give up lunch for one day a week or once a day)
·
Fast food from 6pm till breakfast the next morning (that means no snacks, just drink water)
·
Fast gaming devices (Wii, iTouch, gameboy, etc), junk food (chips, pizza, hamburgers, hot dogs, prepared foods)
·
Fast words (this is a cool one); don't speak for a certain time period each day (if you go to school, you can't choose those hours, lol!). My suggestion would be to not speak from 5 or 6pm until the next morning.
·
Fast books; many of you are readers and love your fiction; a good way to focus on prayer and healing for Emily would be to give up reading fictional books (not including books you're required to read for school) for 1 month. Read the Bible and pray for Emily instead.
·
Talk with your parents and discuss what you should fast. They might be able to come up with other creative ideas.
If you're under the age of 18 make sure that you talk with your parents before you begin to fast anything; they need to give you permission.
·
If you're over 18 or already done growing, pray about taking on the challenge of a full fast (no food at all; just fruit juice and nutritional liquids) for 1 month
Will you join my family and I; will you fast and pray for Emily? If you wish to be part of
OPERATION: COMBAT
, please take the following button and put it up on your blog. Spread the news of this operation to your followers, family, and friends. Every human's life is important to God and, being His adopted children, we should take care of our brothers and sisters, appealing to the Father for His healing touch when one needs healing. More information concerning
OPERATION: COMBAT
is going to come up in the next few days. I will also be hosting a daily devotional on
The Minstrel Warrior
as encouragement to those of you who are taking part of this operation. So stay alert, my fellow warriors!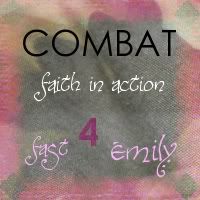 Signed with a sword,
Squeaks.